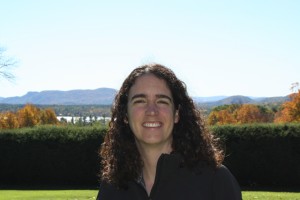 Education:
Ph.D. (Clinical Psychology): University of Southern California

M.A. (Clinical Psychology): University of Southern California

B.A.: Yale University
Courses taught at TCNJ:
Design and Statistical Analysis (PSY 203)

Abnormal Psychology (PSY 217)

Research Seminar (PSY 299)

Clinical Psychology (PSY 331)

Counseling and Clinical Seminar (PSY 373) on the Psychology of Mindfulness and Meditation

Senior Seminar: The Psychology of Mindfulness and Meditation (PSY 470)
Research Interests: My research interests focus on the causes and consequences of rumination, a cognitive coping strategy that involves repetitive and seemingly uncontrollable thoughts about a negative experience or feeling.  Rumination is associated with a range of negative clinical outcomes, from depression and anxiety to alcohol use and aggressive behavior.  My research generally focuses on outcomes related to anger and aggression.  I am currently exploring specific types of interpersonal stressors that may lead to increased rumination.  Finally, I am interested in studying mindfulness as a possible antidote to rumination.
Selected Publications:
Zielinski, M.

, Borders, A., & Giancola, P.  (in press).  Does hostile rumination mediate the associations between child abuse, parenting characteristics, and borderline features in adulthood?. Personality and Mental Health. 
Borders, A., 

Rothman, D.

, & McAndrew, L. (2014). Sleep problems may mediate associations between rumination and PTSD and depressive symptoms among OIF/OEF veterans. Psychological Trauma: Theory, Research, Practice, and Policy.
Borders, A., 

Guillen, L., A.

, & Meyer, I. (2014).  Rumination, sexual orientation uncertainty, and psychological distress in sexual minority university students. The Counseling Psychologist, 42(4), 497-523. 
Borders, A., McAndrew, L., Quigley, K. S., & Chandler, H. K. (2012).  Rumination moderates the associations between psychiatric symptoms and risky behaviors in Veterans. Journal of Traumatic Stress, 25, 583-586.
Borders, A., & Giancola, P. (2011).  Trait and state hostile rumination facilitate alcohol-related aggression. Journal of Studies on Alcohol and Drugs, 72, 545-554.
Borders, A., & Liang, C. T. H. (2011).  Rumination partially mediates the associations between perceived ethnic discrimination, emotional distress, and aggression. Cultural Diversity and Ethnic Minority Psychology, 17, 125-133.
Van Dam, N., Earleywine, M., & Borders, A. (2010).  Measuring mindfulness?  An Item Response Theory analysis of the Mindful Attention Awareness Scale. Personality and Individual Differences, 49(7), 805-810.
Borders, A., Jajodia, A., & Earleywine, M.  (2010).  Could mindfulness decrease anger, hostility, and aggression by decreasing rumination?. Aggressive Behavior, 36, 28-44.
Borders, A., Smucker, S., & Earleywine, M.  (2007). Dispositional rumination and alcohol-aggression expectancies moderate the relationship between alcohol consumption and alcohol-related violence. Aggressive Behavior, 33, 327-338.
*Note: Any underlined name is a student.
Fun fact: Dr. Borders has performed at Carnegie Hall… twice!